How to Size Cabinet Knobs and Pulls
August 30, 2021
At Smith & DeShields, Inc, we have been helping our community find the right products — such as cabinet knobs — for their homes and pulls for over 60 years. Some of the most common questions our associates hear when it comes to cabinet door hardware are "What size do I get?" and "Where do I put them?"
There's no true right or wrong location for your knobs and pulls, but the general guidelines below will ensure your knobs and pulls are placed proportionally and in a way that "makes sense." Here's how to size cabinet knobs and pulls and additional advice from the best-in-class associates at Smith and DeShields.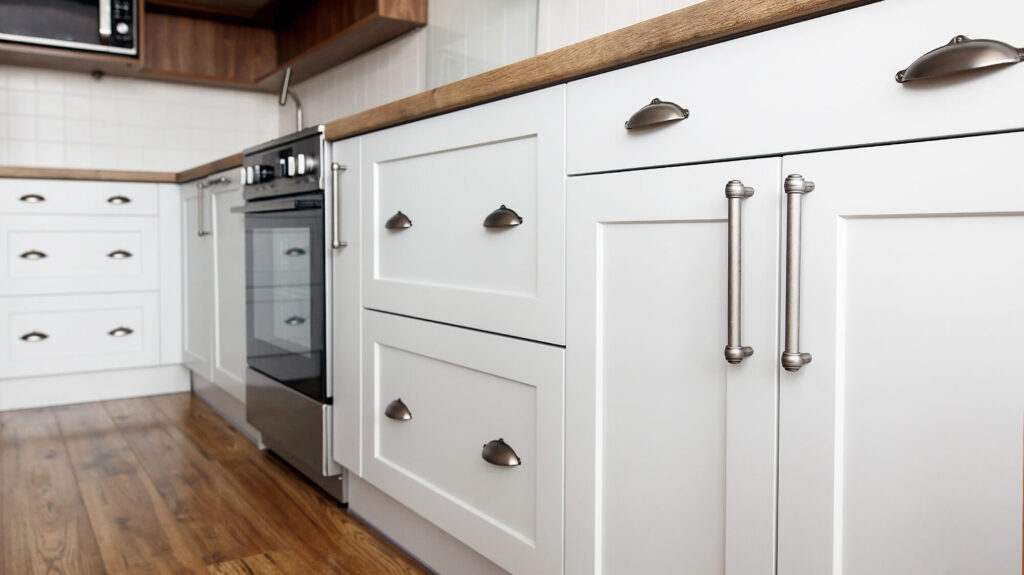 Knobs or pulls?
Another question Smith & DeShields associates often get asked by homeowners is whether or not they should use knobs, pulls or a combination of both. There are a number of options…
All knobs – More subtle and small, all knobs are a great option when you have stunning cabinetry or a backsplash that might steal the show
All pulls – Slightly easier to use than knobs, they are preferred in the homes of those with weak or arthritic hands. They're also typically available in a wider selection, providing more options for a homeowner
Knob & pull combinations – When you can't decide or want the best of both worlds, go with a combination. One option is to have knobs on the upper cabinets and pulls on lowers or knobs on your cabinet doors and pulls on drawers
Sizing knobs and pulls
When it comes to sizing knobs, 1 ¼" is a safe bet. If you're going for a more minimalistic look, size down. Want to make an impression? Choose a larger-sized pull.
Pull sizes get more complicated because there are many options for sizes and configurations to choose from. The biggest thing to keep in mind is the longer the pull, the more contemporary they feel. Here are some additional stylistic choices you can make when sizing your cabinet pulls:
Choose a consistent size throughout
Opt for longer lengths on longer drawers
Full length pulls create a modern look
Hardware is the finishing touch for your project and you will find a wide selection of well-known manufacturers from which to choose at Smith & DeShields. We offer you competitive pricing and best-in-the-industry experience. Because quality matters to us – and to our clients – we proudly note our top-quality vendors.
Smith and DeShields, Inc. is a family-owned business that has proudly served the South Florida building industry for over 60 years. For more information, contact us.

Need help? Speak with an Expert.
Let one of our best-in-class sales associates help you find the perfect building supplies for your project.
Contact Us