How to Personalize Your Home with Architectural Millwork
September 26, 2022
Wainscoting, trim work, crown molding, and cabinetry — are all examples of custom millwork that can be manufactured directly into the structure of your home. Millwork has been in homes for hundreds of years, taking shape in many different forms. This can also include millwork which is produced in a mill to create wooden detailing, meaning it can add texture and depth. Exude the timeless elegance of fine craftsmanship, create unique storage solutions, and even increase your home's value. Here are 5 ways to incorporate architectural millwork into your Florida home.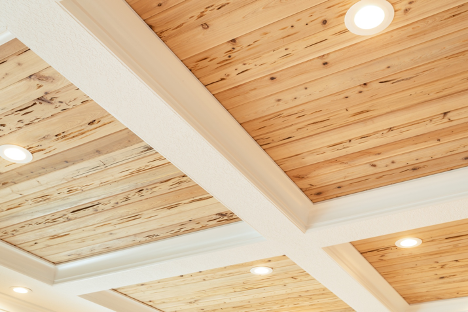 Columns & Trim
When building a home, columns and trim can enhance your home with an elegant touch. Millwork can turn any home from ordinary to extraordinary. Baseboards and trim are an easy way to incorporate millwork into your custom home. Installing custom columns can also add distinctive character to a home as interior structural supports, mantels, or even room dividers.
Trim can be beneficial in more than one way when designing a custom home. When installing trim, it typically is used to cover gaps between 2 areas. Covering gaps creates a more uniform space and can be highly decorative in setting the style and tone. Quality trim is made from treated wood but comes in many different synthetic materials now like plaster, polystyrene, or PVC. Trim and columns tailored to the client's style can transform a home drastically.
Built-in Cabinets
Built-in cabinets create functionality with a sophisticated twist on storage. Custom cabinets or built-ins help utilize each square foot of your property. Designing a space with cabinets can add emphasis to a specific area in your home. They can also create a focal point in the center of the room which draws you into the space. Cabinets can be custom installed in your kitchen, bedroom, bathroom, garage and even outdoors. A few built-ins you may generally see in a home include:
Bookshelves
Cubby storage
Benches
Kitchen table or booth
Under-stairway storage
Media or TV units
Cabinets
Closets
Window benches
Vanities
Office storage
Shiplap, Wood Paneling & Beams 
Wood paneling, board and batten, wainscoting, beams, and shiplap are all exceptional and custom treatments you can easily incorporate.
Shiplap produces a uniform look and has been seen in the interior design industry for many reasons. This paneling has an eye-catching look that brings elegance and texture to any room.
Wood paneling can also transition an area because it gives a clean formal feel. There are a few styles of paneling including wainscoting as well as board and batten. Wood paneling can visually break up larger wall expanses while still adding a decorative element. Wainscoting establishes a classic "high-end" look for years to come.
Lastly, wood beams might be your preferent. With such remarkable size, exposed wood beams bring a visually exquisite feature to the room. Beams intensify personality and charm in your home which creates an effortless design.
Sliding Doors/Wood Doors
When installing a custom door with millwork, the choice of door ushers in your design style. Beyond conventional doors, millwork doors are custom-made to enhance the look of an entryway. Doors can be equipped with custom glass panels or sidelights. The sizing of the door depends on what can be custom-made to fit the entryway. A broader door allows for larger panels letting more natural light into your space. Doors are the first feature your guests see and millwork will catch everyone's eye.
Mullioned Windows
In window design, a mullion is a vertical divider that breaks apart the opening. The technology needed to manufacture large panes of glass was not developed during the Victorian Era. Before that, large windows were constructed by forming small, individual panes of cut glass held together by supportive mullions. Mullioned windows can take shape of a rectangle or square depending on the opening. Acting as load-bearing elements to support an arch, mullioned windows add a cathedral-like finish to any home.
Smith & DeShields
Adding our millwork can seem like a hassle – but in the end – it can transform your space like you never imagined.
If you are interested in installing custom millwork into your home, visit Smith & DeShields, the #1 family-owned and operated door manufacturer in South Florida.
Smith & DeShields is home to a wide array of doors to suit all your needs, whether it be exterior or interior doors, simple or fancy, impact-resistant, and more. All of our exterior doors are built to exceed Florida Building Code and are sourced from the most respected vendors.
For over 65 years, Smith & DeShields is well-respected for evolving its product lines to match the latest technology, designs, and hardware that stand the test of time. This is why contractors, architects, and homeowners alike are invited to experience the wide variety of quality products showcased in each of our four Florida showrooms. If you are interested in installing our custom millwork into your home, visit one of the four showrooms throughout Florida, including Naples, Fort Myers, Boca Raton and Jupiter. Visit smithanddeshields.com to learn more.

Need help? Speak with an Expert.
Let one of our best-in-class sales associates help you find the perfect building supplies for your project.
Contact Us