5 Benefits of Having Fire-Rated Doors in Your Home
September 16, 2022
Fire-rated doors are part of a passive fire protection system and are designed to reduce the spread of fire and smoke throughout a building or structure. 'Fire-rated' means that the door, when installed properly, will not combust during a certain time frame in the case of a fire. While time ratings vary, the standard ratings include 20- to 90-minute doors. Fire-rated doors are more common in commercial buildings but installing them in a residential home can have major benefits as well.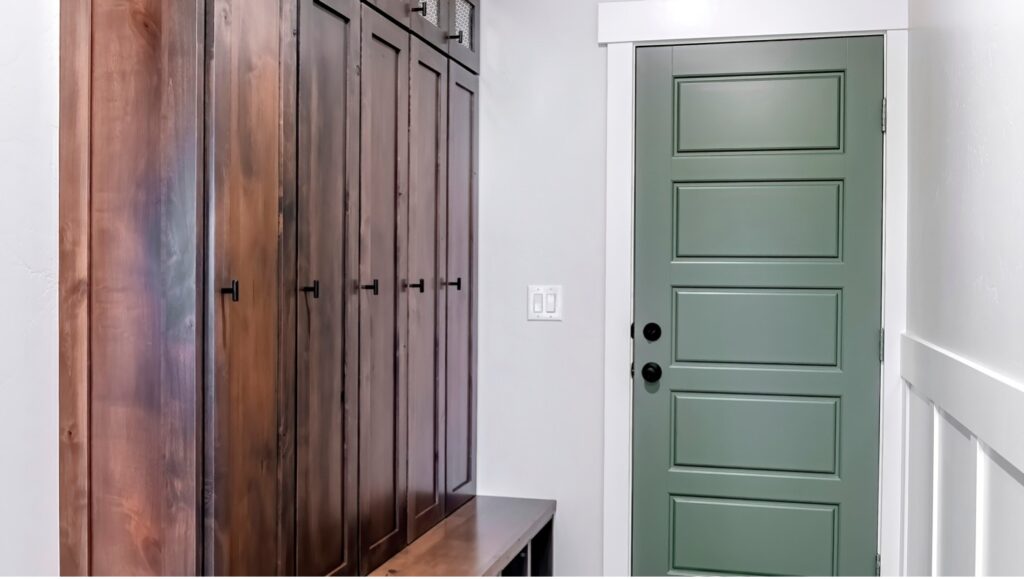 Benefit #1: Contains Smoke
When installing fire-rated doors in your home, the main benefit lies in containing the fire. These specialized doors are built to endure fire, to manage risk and minimize damage. Toxic gases can spew from anywhere in your house, which can cause severe damage to anyone inside. The doors are constructed of a few heavy metals like gypsum which can withstand severe flames. Fire-rated doors also help contain smoke. Installing these doors will allow anyone inside to evacuate before any toxic gases or smoke reaches them and will minimize damage to your home and lower the risk of injury.
Fire-rated doors go through various tests to see if they meet the standards and safety requirements of the National Fire Protection Association 80. The NFPA 80 standard regulates the installation and maintenance of assemblies and devices used to protect openings in walls, floors, and ceilings against the spread of fire and smoke. The rating is the duration for which a passive fire protection system can withstand a fire-resistance test. It is most often a measurement of time. Fire ratings can be 20, 45, 60, 90, or 180 minutes. A third-party agency examines doors to guarantee they meet the requirements.
Benefit #2: Soundproofing
Seeing that fire-rated doors can endure severe flames; they also help insulate a room. Constructed of solid materials, doors are therefore virtually soundproof. With a strong interior core it creates a barrier between you and the next room or the outdoors. The depth of the fire-rated door also establishes how soundproof the room will be. This should allow for a peaceful night of sleep throughout your home.
Benefit #3: Safety with Luxurious Looks
A fire-rated door is great for both safety and aesthetics as fire-rated doors are available in a wide range of finishes and styles. So while diminishing safety risks, you can also create a modern aesthetic in your home.
Benefit #4: Increase Property Value
Installing a fire-rated door can significantly increase your property's value. The door helps protect property and assets, which in return results in increased value of your home.
Swapping a normal door with a specialized fire-rated door can also help reduce fire insurance premiums because due to decreases in risks within your home.
Benefit #5: Provide enhanced security
It's recommended that you install a fire door between sleeping areas and places where a fire is likely to erupt. Most fire doors are interior doors that lead into the attached garage, but other possible locations include the top and bottom of stairwells or at either end of long hallways.
If you have a two-story home, fire doors become even more important, as upper levels can be arduous to evacuate.
Be sure to check local building codes before installing a fire door. They may specify a minimum required rating for certain types of entryways. Consult the National Fire Protection Association for their standards for fire doors to make sure your doors pass regulations.
Smith and DeShields
If you are interested in installing fire-rated doors into your home, visit Smith and DeShields, a family owned and operated door manufacturer in Southwest Florida.
Smith & DeShields is home to a wide array of doors to suit all your needs, whether it be exterior or interior doors, simple or fancy, impact-resistant, and more. All of our exterior doors are built to exceed Florida Building Code and are sourced from the most respected vendors.
For over 65 years, Smith and DeShields has developed a reputation for evolving its product lines to match the latest technology, designs, and hardware that stand the test of time. This is why contractors, architects and homeowners alike experience the wide variety of quality products showcased in each of our four Florida showrooms. If you are interested in fire-rated doors, please visit one of the four showrooms throughout Florida in Naples, Fort Myers, Boca Raton or Jupiter. Visit smithanddeshields.com to learn more.

Need help? Speak with an Expert.
Let one of our best-in-class sales associates help you find the perfect building supplies for your project.
Contact Us