Crown Moulding Designs That Will Breathe New Life into Your Space
October 15, 2021
Crown moulding, although an enhancement in many homes, is still considered the best way to add detail and bring an elevated sense of luxury to your home. Its natural way of lifting your eyes toward the ceiling to tie in elements of the home is oftentimes underrated.  Here's why crown moulding will breathe new life into your home.
Color theory and design state that contrast brings depth and dimension to a subject. The value of a color and its differentiation from neighboring colors can bring the illusion of depth, allowing the viewer to distinctively visualize and interpret the subject with a better understanding.
In conclusion, depth and dimension will make the subject "memorable".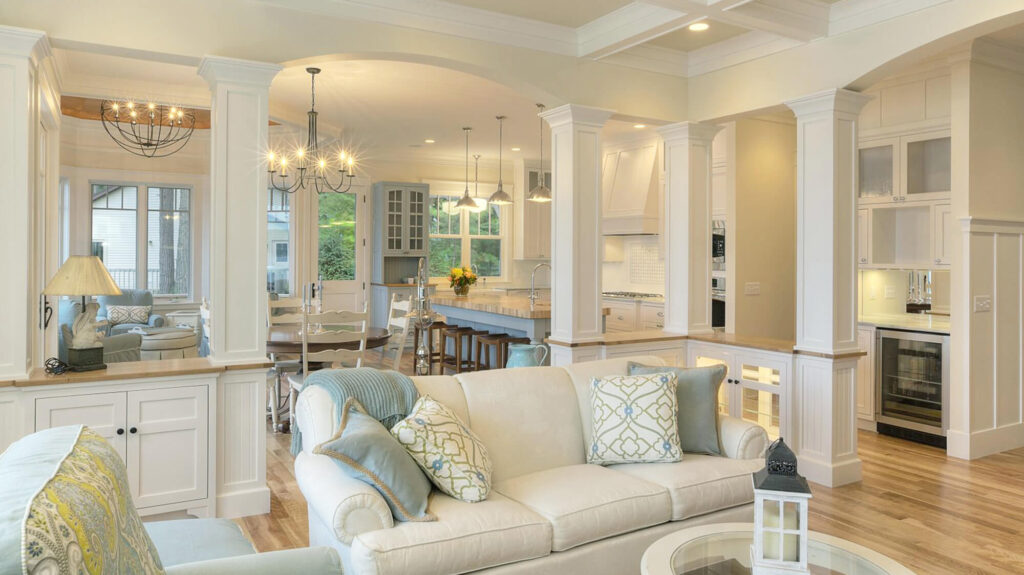 Crown moulding utilizes this theory through the use of curves, channels, and playing to light and shadow. The channels in crown moulding will create sharp shadows (ambient occlusion). The S-curves create gradation, bringing dimension and depth where the wall and ceiling meet. These notable properties can emphasize the height of the room when moulding is implemented.
In order to turn any room from a "box" to a room fit to be designed a chateau, crown those barren walls and line them with perfectly crafted mouldings to suit your tastes. There are a plethora of styles and designs to choose from, which make crown moulding an important and understated custom home feature worth looking into.
Modern designs of crown moulding call for fewer grooves and curves, thereby creating a sleek, yet classic look. While more intricate designs complete with varying degrees of dimension leave a lavish impression and contribute to the room's character.
Crown moulding is even more exceptional since it comes in many materials, sizes, shapes, and colors. Moulding cannot be undervalued as it can be the difference from a detailed interior to an outdated space.
Darker colors like gray, brown, and black on the trim of a room make the ceiling feel closer and sometimes closed off. Some people prefer the look of this contrast, as it adds an accent to their homes – making the room unique. Using lighter colors, the most popular being white can give the illusion of raising the ceiling by diminishing or blending the sharp 90-degree angle where the ceiling meets the walls.
Crown moulding is notoriously used on the upper segments of a room, however, there are plenty of other creative opportunities to use moulding throughout any space. You can use it on benches, or even detailing underneath your countertops. You can line doorframes, storage containers, closet spaces, wine cellars, a mantle for the fireplace. You can even line it under shelves or paintings for a regal look.
Breathe new life into your space by adding crown moulding to your home. Some consider it the fifth wall in your rooms.
After nearly 65 years of being in the crown moulding business, these are frequently asked questions that we as industry professionals answer regularly.
What materials are mouldings made of?
Materials can range from plaster to polyurethane, or foam with a plaster coating. The most popular and most requested are wood mouldings. Smith & Deshields is a distributor and buys from four prestigious wood mills with the highest quality pine wood moldings. We also offer LDF or Low-Density Fiberboards for those who want to install their own moulding.
How long does moulding last?
Crown moulding is built to last and is often sealed with primer and paint. It is also sturdy with some degree of flexibility for easy and malleable installation!
Smith & Deshields
Smith and Deshields offers only the highest quality selection of crown moulding from multiple distinguished manufacturers and mills. Crown moulding only scratches the surface of the supplies and elements for the home that we offer. Doors, handles, hardware, and commercial-grade fixtures are among some of the many things you have to choose from at Smith & DeShields.
Whether you're looking to add special touches to your new home, or fixing up an older home, Smith & Deshields is dedicated to giving you the best customer service along with the products that fit your needs!
If you're interested in looking at our catalog visit our website or in person at any of our locations.
One of our four showrooms is located at 11790 Metro Pkwy, Fort Myers, FL 33966. Feel free to call us at (239) 337-2224 for additional information.

Need help? Speak with an Expert.
Let one of our best-in-class sales associates help you find the perfect building supplies for your project.
Contact Us