All About Exterior Doors with Glass Panels from Smith & DeShields
January 19, 2023
While aesthetics are certainly important, your front door should be able to stand the test of time, weather and would-be intruders. At Smith & DeShields, we have a wide variety of doors to suit all your needs, whether it be interior or exterior doors, simple or fancy, impact-resistant and more. With your safety in mind, our exterior doors are Florida building code compliant. We pride ourselves on the quality of products we offer which is why we only work with top-quality vendors. Here is why Smith & DeShields exterior doors are head and shoulders above the rest!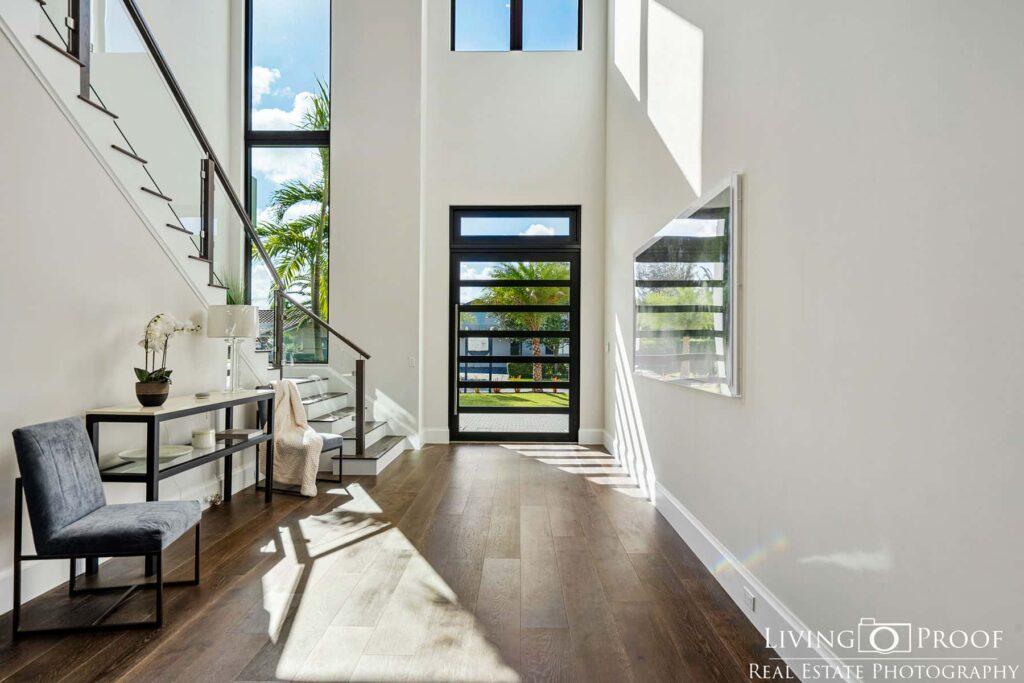 Visibility
Glass panel doors let light travel between rooms, giving you varying levels of visibility where needed. The level of visibility or privacy you achieve is determined by the size and type of glass panels in the door design. Choose clear glass to immerse your entryway with natural light or a decorative or textured glass option to maintain optimal privacy. Smith & DeShields offers different types of glass to allow ranges of light in and creates the perfect ambiance for every entryway. There are many options and patterns to choose from, including:
Colonial
Diamond
Gothic
Prairie
Radius
Uneven
Vertical
Top-Down
Durability
Exterior glass doors are made with safety glass, known as tempered or laminated glass, to minimize the risk of breakage and injury. Sliding glass doors for patios are made with tempered glass for those same safety reasons. Glass options vary from each vendor, and they are all certified to withstand the test of time – as well as hurricanes — in Southwest Florida.
Quality
All doors from our vendors are built with the utmost quality, whether they're glass paneled or not. Smith & DeShields hand selects all materials to ensure that our customers are satisfied with every product through to installation. We ensure that our glass is of the highest quality with each and every vendor listed below at Smith & DeShields.
Our Exterior Door Vendors
Exclusive Wood Doors
Exclusive Wood Doors follows a guiding principle that all their exterior doors are built solidly, producing lasting value as a result of exceptional craftsmanship. All of their wood products are made from solid wood with doors crafted in authentic stile and rail construction. Each piece is created individually with alternating grain patterns to ensure balance and stability in every door.
Milwork 360
Millwork 360 offers a variety of exterior doors ranging from sleek and modern to timeless and traditional. Millwork 360 creates custom exterior doors that add instant curb appeal and leave a lasting first impression. Their exterior doors are produced and created built-to-order, allowing them to create a tailored look while maintaining competitive pricing.
Signature Door Inc
Signature Door Inc. has repeatedly brought beauty and quality to the door-manufacturing industry. With technological changes, Signature Door continues to evolve, bringing higher standards of excellence and more customer options to the table with door and glass designs selected to satisfy a wide variety of architectural tastes.
PlastPro
PlastPro recognizes that doors aren't just doors. They are a reflection of your home. PlastPro offers a variety of doors from fiberglass, to planking and specialty doors to help you find a door that represents you, makes you feel secure and fits your needs.
Therma-Tru
Therma-Tru offers entryway doors that look as good as wood but are more durable. Their fiberglass doors, nearly identical to wood, revolutionized the industry.
MasterGrain
MasterGrain's premium line of fiberglass door systems components features authentic wood grain replication and combines beauty and high-quality construction to fiberglass doors.
Vintage Iron Doors
Vintage Iron Doors' products have been approved as the strongest iron doors on the market. They also offer the large, engineered sizes and have an unlimited number of design options.
Clark Hall Doors
Clark Hall Doors offers fully customizable, hand-crafted, one-of-a-kind doors. They range in style from ornate, traditional, contemporary, craftsman and patio style doors.
Smith & DeShields
Because first impressions matter, your front door should be one that leaves a lasting impact; therefore, trust Smith & DeShields.
For over 65 years, Smith & DeShields has been well-respected for evolving its product lines to match the latest technology, designs, and hardware that stand the test of time. Contractors, architects, and homeowners alike are invited to experience the wide variety of quality products showcased in each of our four Florida showrooms.
Visit SmithandDeShields.com to learn more.

Need help? Speak with an Expert.
Let one of our best-in-class sales associates help you find the perfect building supplies for your project.
Contact Us