How Hardware Can Change the Look and Feel of Your Space
July 5, 2022
Hardware is an important part of the overall aesthetic of a home or business. It can, however, do more than just look fantastic. It may serve to convey a brand image to people who enter your home or office leaving them with a lasting impression.
Hardware is equally important for performance and durability. It's vital that your hardware gives your appliances, doors, and cabinets the functionality they deserve. For durability, it must be ergonomic, secure, and long-lasting. Performance could be anywhere from auto-closing drawers and cabinets to door hinges that are extremely silent for the sake of good work or home environment.
Finishes
A different metallic finish may be required depending on the colors and concept of your home or business design. For example, if you have a more classic kitchen with a luxury aesthetic, you may choose to use gold metallic knobs, handles, and hinges with a more intricate design.
For businesses, perhaps a more sophisticated, practical doorknob design could be a black metallic finish with an ergonomic grip and clean lines.
Materials
Hardware is also available in a variety of materials; if you want to spend less while still getting more from your hardware, you can always pick a robust plastic that looks beautiful on your doors and cabinetry. Plastic can now be easily created in a variety of designs and finishes that look fabulous but keep costs to a minimum. This is especially useful for companies that require a large quantity of hardware for an office space or building.
For those who love tradition, brass hardware may be just the ticket. Its popularity is due to the fact that it is long-lasting, durable, looks great with a variety of home styles and it develops a rather beautiful patina over years of use.
Nature lovers may go for a bit of rustic look with wooden hardware. Although more costly due to the craftsmanship of the wood, it can stand out in the home and its natural finish can bring warm and earthy tones to your interior.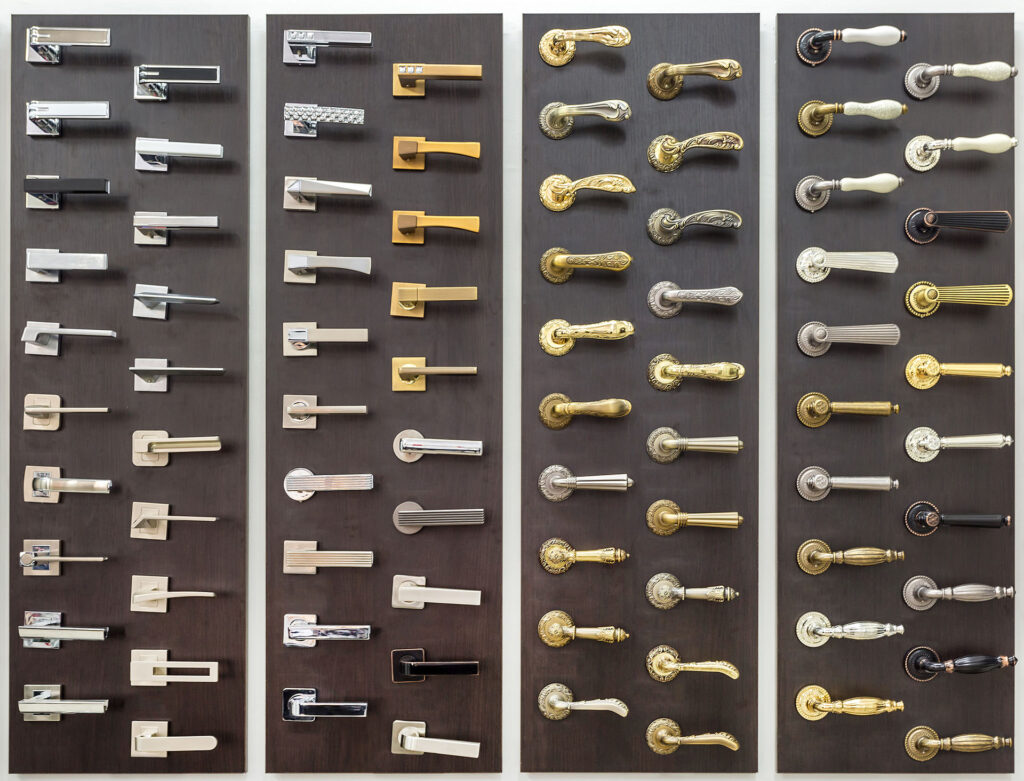 Styles
Hardware, like finishes and materials, can come in a number of styles. For example, if you have a modern kitchen with clean lines and a simple color palette, you may choose to pick a geometric or square handle in black or silver to match the aesthetic of the area. If you have a traditional-styled home, you may wish to utilize elaborate hardware with flourishes and complicated designs in brass or metallic finishes.
Utility
One thing unites our kitchens, doors, and cabinets throughout the house: hardware. Anything that opens, closes, turns, twists, and shuts requires hardware. This might include anything from sophisticated hinges and sliding drawers to handles and knobs on a range of home utilitarian pieces.
The materials used to build these devices determine their quality. For example, most basic model houses include low-cost fittings like cabinet knobs made of PVC plastic, which can discolor and break after extensive use. Replace these knobs with a more ergonomic and metallic finish, making your cabinets pop, a simple trick to brighten up your kitchen.
An all-too-common occurrence in any home happens when a cabinet breaks off its hinges. Normally you would want hinges that can close a door with ease while also remaining durable. Modern hinges come with a dual twisting locking mechanism that prevents cabinets and doors from opening up further than necessary, thereby protecting the integrity of the hinge. These mechanically advanced hinges also slow your cabinet doors from slamming against their frame when they're closed to prevent those pesky dents and marks from happening over years of use. If you are interested in a large selection of hardware perfect for your home or business, visit Smith and DeShields' 4,000 square foot showroom in Naples, or call (239) 591-2224 to learn more about our product offerings.

Need help? Speak with an Expert.
Let one of our best-in-class sales associates help you find the perfect building supplies for your project.
Contact Us