3 Benefits of Using Door Casings for Aesthetics and Design
October 30, 2023
When it comes to interior design and home improvement, even the smallest details can make a significant impact.
Door casings, also known as door trim or molding, are one such detail that often goes unnoticed, but can play a crucial role in enhancing the aesthetics and design of your living spaces.
In this blog, we'll explore three key benefits of using door casings for aesthetics and design, shedding light on how this often-overlooked element can transform your home with the quality craftsmanship offered by Smith & DeShields.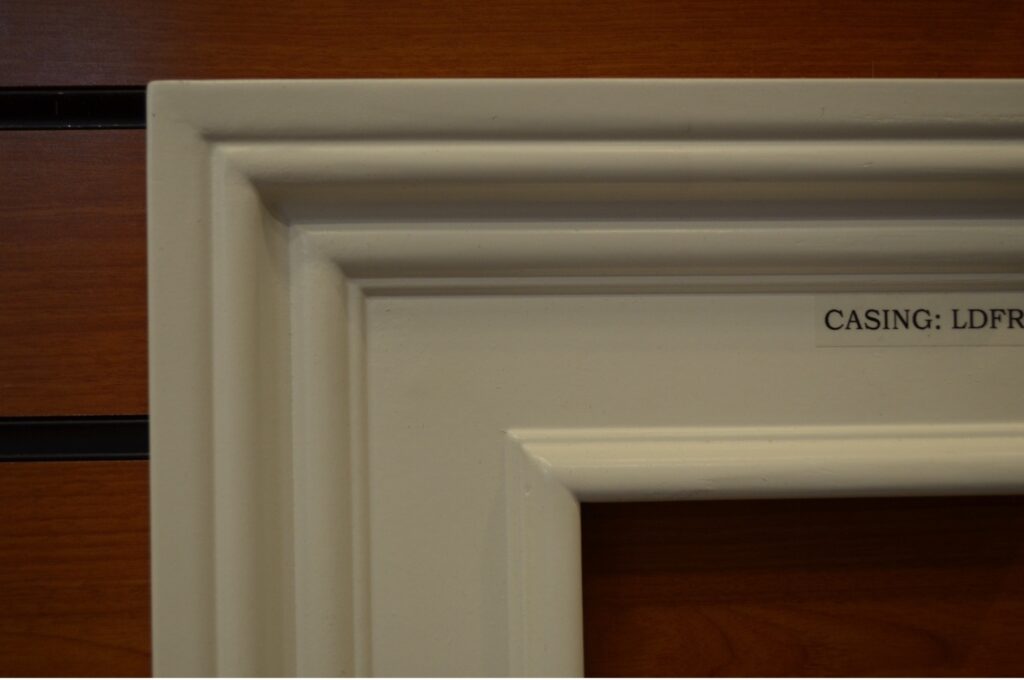 Architectural Elegance:
Smith & DeShields, renowned for their commitment to quality, can provide door casings that add a touch of architectural elegance to your interiors. These casings serve as a bridge between your doors and the surrounding walls, creating a visually appealing transition.
Smith & DeShields offers a wide range of casings with intricate patterns and profiles that evoke a sense of sophistication and grandeur. With their craftsmanship, your ordinary doorway can be transformed into a striking focal point that enhances the overall aesthetic of your home.
Visual Continuity:
Smith & DeShields understands the importance of visual continuity in interior design. By choosing door casings from their collection, you can achieve a cohesive look that ties all the doors in your home together seamlessly.
Whether you have an open floor plan or a more compartmentalized layout, Smith & DeShields' casings provide a unifying element that brings everything together in a harmonious and balanced way. A commitment to quality and consistency ensures that your space feels thoughtfully curated.
Customization and Personalization:
Smith & DeShields offers a high degree of customization and personalization when it comes to door casings. You have the freedom to choose from a variety of materials, including wood, MDF (medium-density fiberboard), or PVC, each offering different aesthetics and durability.
Moreover, at Smith & DeShields you can select the profile, width, and finish of your casings. Whether you prefer a minimalist, clean-lined casing for a modern look or a more ornate, detailed casing for a traditional or vintage vibe, Smith & DeShields can accommodate your unique style and design preferences. Their commitment to customization empowers you to make choices that reflect your personality and transform your space into something truly exceptional.
Smith & DeShields
In the world of interior design, often the smallest details assume the most monumental roles. Door casings and their ability to infuse architectural elegance, establish visual continuity, and offer boundless customization options makes them a priceless asset in your design repertoire.
Whether you're embarking on an extensive renovation project or simply seeking to refresh your living spaces, consider the invaluable advantages of incorporating door casings from Smith & DeShields into your design strategy.
Choose from their unparalleled selection of doors, hardware, moulding, and other architectural accents and building supplies as well. Many of these are in stock, available immediately, and are locally exclusive to Smith & DeShields. Quality permeates every facet of their business, and it's no different when it comes to choosing top-quality hardware manufacturers.
For over 66 years, Smith & DeShields has been well-respected for evolving its product lines to match the latest technology, designs, and hardware that stand the test of time. Some of our more popular hardware lines are Emtek, Schlage and Baldwin. Contractors, architects, and homeowners alike are invited to experience the wide variety of quality products showcased in each of our four Florida showrooms.
Visit SmithandDeShields.com to learn more.

Need help? Speak with an Expert.
Let one of our best-in-class sales associates help you find the perfect building supplies for your project.
Contact Us